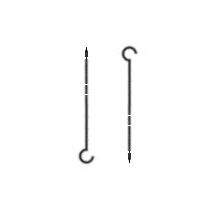 Handpoke, or tattooing without the use of a machine, is an old method of tattooing derived from indigenous tribes. Currently more and more popular, it is no longer associated with prison, careless tattoos. To work with this method, it takes a lot of practice to make the pattern as durable and precise as possible. In our offer for manual tattooing you will find handpoke needles and microblading needles, i.e. a feather method of permanent make-up originating in Asia. All handpoke needles in the Orakon store are pre-sterilized with EO gas. You can buy needle pens from us, which are great for both handpoke and permanent makeup. When choosing goods in the category of handpoke needles, pay attention to the markings of the needles and their thickness.


Handpoke needle –– original method of tattooing with a specialized needle

Handpoke is a method of tattooing with a needle only, without the use of a razor. It requires great precision and skill. Manual tattooing should be sterile and always follow all hygiene rules. This method is gaining more and more popularity, considered to be an original method of tattooing, and it is also less financially demanding for the tattooer, because he only needs different needles and a lot of black ink. Handpoke needles should be well-suited to the type of tattoo, and this method uses single dot contours and shading rather than fillings, which would be much more time-consuming. Handpoke is rather small or miniature works, a large tattoo would require a huge amount of time and many sessions. Handpoke works better on a smooth surface such as the forearms, thigh or chest than, for example, the ankle.


Which handpoke needle should I choose?
Handpoke needles are the same as for tattooing with a machine, they are just held in the hand or inserted into a pen. When choosing a handpoke needle, pay attention to its intended use:
RL, or Round Liner, designed to make lines where the needles are arranged in a circle and a cone.
RS, or Round Shader designed for shading.
MAG, or Magnum, arranged in two rows in a line
FL, or Flat- for color and shading, arranged in a row in a row.
Pay attention to the thickness of the handpoke needles. Needles are available:
8, i.e. 0.25mm
10, i.e. 30mm
12, i.e. 0.35mm
14, i.e. 0.40mm